CrossFit Hackney training program 30/01/17 – 05/02/17 (week 5)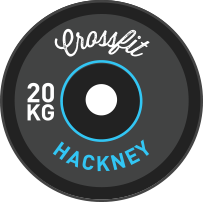 Week 5 of our first 9-12 week program of 2017. BOOM.
It's week 5 and it's time to come alive. The sun has made a showing through the crack of the front door at the arch to help lift your souls and then shattered your souls with some cold cold winds. By now you should have settled yourselves into a good routine, have an idea of what's coming your way in classes and look to move the reps and numbers in a northerly direction. There has been a lot of work thrown at you and you seem to be sucking it all in. There isn't going to any backing off the gas this week.
This week's focus
Focus this week is (as always) on working hard smashing some weights but with a special thought to your posture please. One of the, if not the central, tenet of good, beneficial, effective exercise and movement is posture.  We all spend far too long at desks and various devices which shortens us into a flexed position and produces tight and weak facial and muscular crosses in the body which are often referred to as cross syndromes. A great deal of the exercise we do has an emphasis on extension movement and if you're not getting yourselves into good positions because of a tightness or a weakness something will eventually give. As well as a muscular and skeletal breakdown there are also a number of bad health markers associated with poor posture. Some simple rules: 1. Do your stretching and mobility 2. Check your seating position and get up and move around 3. Strengthen and fire weak stretched muscles (glutes and rhomboids) 4. Stretch and fire shortened weak muscles (hip flexors, hamstrings and pecs).
Strength – lifts
We are back to our Deadlifts and OH pressing for strength, the reps have come down again so the weights should be moving up slowly. We are looking for a ME on your last sets this week – if you find yourself doubling your reps you need to look at the earlier sets, are you lifting enough earlier on?
Volume – lifts
Pulls up and squats – we are after some bigger numbers on these days with some ME attempts, when you're doing these ME please think about the form, don't force out 2-3 extra dirty reps because you can, good reps are worth double the dirty reps and you're less likely to get injured and, importantly, you'll look better doing them.
Breathing / clean days
So there are some longer breathing pieces coming your way and these need to be approached with a slightly different mindset to a good old 3min bash. You need to have an understanding of where your red line limit is. The story of the Hare and the Tortoise always comes to mind when I bang on about pacing and working at a sub maximal level and there is a lesson there for us all. Start as you mean to finish: be efficient and effective.
Breathing / snatch days
As above.
…………………………………………………………………………………
Monday
Lower body – pull / push (strength)

Strong

Fit

Warm up / Mobility


Lunge flow


Warm up / Mobility


Lunge flow


12min E2MOM – 6 sets

A. Deadlifts 6×6,6,4,4,4,ME @3010




15min E90sec – 10 sets (alt)

B. Goblet squats 5×5 @8200

C. Walking lunges 5x5el @2020

12min E2MOM – 6 sets

A. Deadlifts 6×7,7,7,5,5,ME @3010




15min E90sec – 10 sets (alt)

B. Goblet squats 5×10 @4200

C. Walking lunges 5x10el @2020

10min working up the ladder, +1 and +5

1 thruster – 45/30

5x DU

2x thrusters

10x DU

10min working up the ladder, 

+1 and +5

1 thruster – manageable

10x singles

2x thrusters

15x singles
Tuesday
Upper body – pull / push  (volume)

Strong

Fit

Warm up / Mobility


Lunge flow

Warm up / Mobility


Lunge flow

8min   E2MOM -4 sets

A. BW pull ups 4x40sec ME

5min – 4 sets

B. Negative HSPU 4×3-4 @ 8sec eccentric

8min EMOM – 8sets

Odd: Dips 4xME @ 3010

Even: Horizontal ring rows 4xME @2020

8min E2MOM -4 sets

A. Negative pull ups 4xME @6010

5 min practice

ME headstand knee to vertical / wall walks / kick ups to HSW holds

8min EMOM – 8sets

Odd: Dips 4xME @ 3010

Even: Horizontal ring rows 4xME @2020

For a total of 100 press ups

10x Press ups

Run 200 mtrs       

For a total of 100 press ups

10x Press ups / scales

Run 200 mtrs
Wednesday
Breathing (cleans)

Strong

Fit

Warm up / Mobility

Lunge flow

Warm up / Mobility

Lunge flow

18min E90sec – 8sets




A 12×1+1+1 clean+ high hang + power jerk increase weight through sets

B. 6min E90sec – 4sets




3x MH box jumps step down

C. 6min E90sec -4 sets




3 clean pulls A 120% A

18min E90sec – 8sets




A 12×1+1+1 PC clean+ high hang PC + push press increase weight through sets

B. 6min E90sec – 4sets




5x box jump step down

C. 6min E90sec -4 sets




3 clean pulls A 100% A

3x5mins workouts




A. 5min Rowing MX distance




B. EMOM 10x PC and Press @ 70%A




C.EMOM 6x burpee box jump over

3x5mins workouts




A. 5min Rowing MX distance




B. EMOM 10x PC and Press @ 50%A




C.EMOM 6x burpee box jump step down
Thursday – gymnastics
Friday
Lower body – push / pull (volume)

Strong

Fit

Warm up / Mobility




Squat flow

Warm up / Mobility




Squat flow

8min E2MOM – 4sets




A. Squats 4x40sec ME @ 1010 70%+

9min E90sec – 4sets




B. T2B 4xUB ME

8min EMOM -8sets




C1.Odd KB RDL 4×10-12 @2020




C2. Even alt step ups 4xME (40sec)

8min E2MOM – 4sets




A. Squats 4x40sec ME @ 1010 60%+

9min skills




B. T2B / K2E skills

8min EMOM -8sets




C1.Odd KB RDL 4×10-12 @2020




C2. Even alt step ups 4xME (40sec)

19 L 15 L 11 L 7 L 3 L




wall balls- 9/7




L sit up (scale) – 1min (accumulate)

19 H 15 H 11 H 7 H 3 H




wall balls – 7/5




Hollow hold – 1min (accumulate)
Saturday
Upper body – push / pull (strength)

Strong

Fit

Warm up / Mobility




Stick Shoulder flow

Warm up / Mobility




Stick Shoulder flow

12min E2MOM – 6 sets




A. OH press 6×6,6,4,4,4,ME @3010

15min E90sec – 10 sets (alt)




C1. BOR 5×5 @3101




C2. Bench press 5×5 @3010

12min E2MOM – 6 sets




A. OH press 6×8,8,6,6,6,ME @3010

15min E90sec – 10 sets (alt)




C1. KB BOR 5×8 @3101




C2. Bench press 5×8 @3010

10min Partner YGIG




10x STOH -45/35




10x Ring rows

10min Partner YGIG




10x STOH -30/20




10x Banded rows
Sunday
Breathing (snatch)

Strong

Fit

Warm up / Mobility




Lunge flow

Warm up / Mobility




Lunge flow

18min E90sec – 8sets




A 12×1+1+1 Snatch+ high hang + OHS increase weight through sets

B. 6min E90sec -4 sets




5x Snatch grip Halting DL @ 120% A

18min E90sec – 8sets




A 12×1+1+1 PSnatch+ high hang PS + OHS / front squat increase weight through sets

B. 6min E90sec -4 sets




5x Snatch grip Halting DL @ 120% A

3x5mins workouts




A. 5min bike MX distance




B. EMOM 10x PS @ 60%A




C.5min ME rounds of "CINDY"

3x5mins workouts




A. 5min bike MX distance




B. EMOM 10x PS @ 50%A




C.5min ME rounds of "little CINDY"