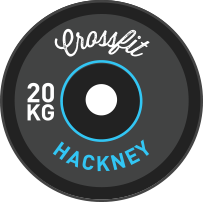 Week 8 of our first 9-12 week program of 2017.
The Open is with us at the end of this week so everything in the Crossfit world goes a bit haywire. 17.1 (the first Open workout) is announced on Thursday night and your coaches will be spending hours planning how to do the WOD and boring anyone who will listen with our thoughts on the subject. We are having an Open workout twinkle on Friday night if you fancy testing yourselves or just watching, but this doesn't mean everything else grinds to a halt, no no no.  This week as well as the Open we will be testing to see how you super chargers are coming along. We are going to be asking you to lift some tin and rep ranges are the same as week 7 so you'll know where to start and push through to some new bigger numbers.
This week's focus
We would really like you to hit your working sets and WODs with a plan in mind. We have been here before so you know what's coming, you know how far you've got to dig, you know the burn is coming, embrace. Don't game the whole session and save it for the piece you fancy, set your stall out early and work for the whole session.
Strength – lifts
Pull ups and squats, we are hitting the 3s this week you have 8 sets to work your way up to some quality numbers. Don't start too light and don't take too big a jump, any gain is a gain.. You have some Dip lock outs and some negative T2B / K2E – think form and position people – make them look easy.
Volume – lifts
Deadlifts and bench press. Make all the numbers count and embrace the burn. There are some spicy WODs on these days too.
Breathing / clean days
We are starting you off with a BB complex to get you going, make sure you're warm, your form is on point and you can go into your B.s section and really give it a good go. No misses please. Then row as if your boat was sinking.
Breathing / snatch days
As above but ride as if you here being chased by crazy zombies.
…………………………………………………………………………………
Monday
Lower body – pull / push (Volume)

Strong

Fit

Warm up / Mobility


Lunge flow


Warm up / Mobility


Lunge flow


15min E3MOM – 5sets

A1. Podium Deadlifts 4×6-8 @3110

A2. Alt rev drop lunges 4×10-12el @1010

12min EMOM – 12 sets (6 each)

B1.Odd Goblet squats 10-12 @2020

B2. Even KB swings 10-12 heavy

15min E3MOM – 5sets

A1. Podium Deadlifts 4×8-10 @3110

A2. Alt rev lunges 4×10-12el @1010

12min EMOM – 12 sets (6each)

B1.Odd Goblet squats 15 @2020

B2. Even KB swings 15 medium

16min AMRAP

Working with a partner YGIG format

50x box jump overs (max 5 each)

50x T2B (max 5 each)

50x Burpees to target (max 5 each)

50x Sit up MB passes

16min AMRAP

Working with a partner YGIG format

50x box jump step downs (max 5 each)

50x K2E (max 5 each) -scales

50x Burpees  (max 5 each)

50x Sit up to clap
Tuesday
Upper body – pull / push  (Strength)

Strong

Fit

Warm up / Mobility


Lunge flow

Warm up / Mobility
 

Lunge flow

16min E2MOM – 8 sets

A. Weighted Pull ups 8×3 @ 3011 

12min E90sec – 8sets alt

B1. Weighted dips 4×5+ 10sec lockout @3111 

B2.DB chest supported rows 4×8-10 @30X2

5mins

C. HSPU – Negatives / skills

16min E2MOM – 8 sets

A. Negative Pull ups / ring rows 8×3-5 @ 6011 

12min E90sec – 8sets alt

B1. Feet on floor Dips 4×5+ 10sec lockout @3111 

B2.Banded rows 4×15 @3111

5mins

C. HSPU / Headstand – skills

12mins AMRAP 

Rest 45sec after each round

5 HSPU

7 KBS -Heavy

9 Double DB Thrusters – 22.5 / 15

12mins AMRAP 

Rest 45sec after each round

5 Piked press up (scales)

7 KBS -Medium

9 Single DB/ KB Thrusters
Wednesday
Breathing – Cleans 

Strong

Fit

Warm up / Mobility

Warm up / Mobility

8min 

A. 4xBB only Clean complex

5x high pull

5x power clean

5x Split Jerks

5x Front squats

5x Clean n jerk

Do not set bar down during complex – rest as needed

8min E2MO2M – 4sets

B 4×3-5 Cleans

C. 9min E90sec – 6sets

1x clean pull @70%B

2x Power clean

3x clean

8min 

A. 4xBB only Clean complex

5x high pull

5x power clean

5x Push Jerks

5x Front squats

5x Clean n press

Do not set bar down during complex – rest as needed

8min E2MO2M – 4sets

B 4×5 PC

C. 9min E90sec – 6sets

1x clean pull @60%B

2x High hang power clean

3x Power clean

16min

Working in teams 3 AFAP

Rowing 12/15Kcals each

16min

working in teams 3 AFAP

Rowing 12/15Kcals each
Thursday – gymnastics
Friday
Lower body – push / pull (Strength)

Strong

Fit

Warm up / Mobility




Squat flow

Warm up / Mobility




Squat flow

16min E2MOM – 8sets

A. Squats 8×3@ 3010 80+%

5min 4sets max

B. Strict eccentric T2B 4×4 @6011

8min EMOM – 8 sets alt legs

C.6x triple jumpers step ups

16min E2MOM – 8sets

A Squats 8×5@ 3010 70+%

5min  

B.T2B skills

8min EMOM -8sets alt legs

C.10x alt 1lg step ups

12 mins – total reps

2min work 2min rest

12x T2B

ME wall ball in remaining time

12 mins- total reps

2min work 2min rest

12x K2E (scale)

ME wall ball in remaining time
Saturday
Upper body – push / pull (Volume)

Strong

Fit

Warm up / Mobility




Stick Shoulder flow

Warm up / Mobility




Stick Shoulder flow

15min E3MOM – 5sets

A1. Bench press 5×8-10 @3010

A2.DB / BB  BOR 5×10-12 @2012

8min EMOM – 8sets

Odd BB supine rows 4×10-12 @1010

Even BB STOH 4×10-12 @1010 @60%

15min E3MOM – 5sets

A1. Bench press 5×12-15 @3010

A2.DB BOR 5×12-15 @2012

8min EMOM – 8sets

Odd BB supine rows 4×10-12 @1010

Even BB STOH 4×10-12 @1010 @light

3x4min AMRAP work 2min rest

30xDU

20x BB Thrusters 45/30Kg

3x4min work 2min rest

60xSingles

15x BB Thrusters 30/20Kg
Sunday
Breathing (snatch)

Strong

Fit

Warm up / Mobility




Lunge flow / Stick flow

Warm up / Mobility




Lunge flow / Stick flow

8min 

A. 4xBB only Snatch complex

5x high pull

5x power snatch

5x OHS

5x snatch balance

5x Full snatch

Do not set bar down during complex – rest as needed

8min E2MO2M – 4sets

B 4×3-5 Snatches

C. 9min E90sec 6sets

1x snatch pull

2x High hang power snatch

3x snatch

8min 

A. 4xBB only Snatch complex

5x high pull

5x power snatch

5x Back squat

5x Pressing snatch balance

5x Power snatch

Do not set bar down during complex – rest as needed

8min E2MO2M – 4sets

B 4×3-5 PS

C. 9min E90sec 6sets

1x Snatch grip DL

2x Snatch grip high pull

3x Power snatch

16mins- follow the leader

Working in teams 5

Bike 12kcals

20x KB walking lunges

16mins – follow the leader

Working in teams 5

Bike 10kcals

20x KB walking lunges