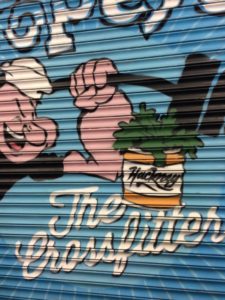 We are almost (Sunday 29th April) coming to the end of phase 2 of our 2018 master plan. For ease we are going to call the next one phase 3. And it's going to be a belter and set you up for a hot summer.
As you know well, as you've heard me crack on about it so much, the overall  goal and programming at Crossfit Hackney (and soon Crossfit Old Street) is GPP (general physical preparedness), and is designed for what we like to call generalists. That means that we aim to create healthy well rounded, strong, fit, happy, humans. Saying that, each phase we plan does have a primary focus above all others.
Phase 3's bias will be towards body composition, to build some quality tone and put some muscle on your frames. As well as increasing general longevity, this also sits well as the weather gets warmer and clothes get fewer, smaller and tighter. As with previous phases we will be repeating our primary movements for 2 weeks (note that the WODs will change every week). We do this to give you time to build consistency of movement. Our rep ranges will be starting at the higher end and in the hypertrophy range, the rest periods won't be long (but long enough) and the tempos will be slow and controlled. Think about moving the right joint with the right muscles and making sure you are squeezing and feeling the contraction.
Your training week will look something like the below:
Monday – Snatch skills, Deadlifts and horizontal pressing.
Tuesday –  OH pressing, split squat and chin up variations.
Wednesday –  Longer barbell conditioning workouts.
Friday –  Snatch skills/complex and back squats.
Saturday –  Cleans and dips and a longer workout
Sunday – Recovery/deload day. Not too heavy or challenging. We say this with a frown because you know you should take an easier day, but if you want to go for it .. .go for it.
Remember people, when you're looking at the program there are always scales and variations available. If you find yourself failing early on your rep ranges, scale back weight and increase your reps. Please ask  your coach for movement specific scales and variations.